Most people have debt. And figuring out how to pay it off can be a huge challenge. There are lots of different debt payoff methods, such as debt consolidation or having a debt management plan. The right one depends on your personal finance situation and how much of your budget you can contribute to monthly debt payments. This is where apps come in handy. And ours can help make sure you meet your debt payoff goals efficiently and quickly. Keep reading to learn more about the Credit & Debt app.
The best apps for paying off your debt include the following features:
Debt relief is hard for anyone to maneuver through. Here are some key features the Credit & Debt app provides that can help make your journey as easy as possible. Afterall, our app is one of the best.
Free, confidential debt relief coaches
Even though you're using an app on your own phone, you don't have to go it alone. The Credit & Debt app comes with a free, confidential debt relief coach who helps you create and manage a personal budget that tracks your spending. Our coaches also provide a free debt analysis when you get started, so you understand exactly the best solutions to becoming debt free. We're ready to answer all your financial questions with personalized debt consolidation, debt settlement, and debt management plans. And yes, this is completely free with the app.
Proactive insights
A personal finance app is the quickest and easiest way to get perspective on your current financial situation in real time. They are essential to staying on top of your spending and can help you keep track of your account balances virtually with features like overdraft warnings, large transaction notifications and more. And when you're on top of what's going in and out of your bank account, you can actually stick to a debt relief plan that matches your habits and income. Here are some of our other favorite reasons to download the Credit & Debt app:
Track your Income vs. Expenses. Use our app to see where you might be overspending with a categorized view of your spending habits by month. We also compare it to the national average!
Debt Payment Reminders. We can keep track of all your debt payment due dates so you can pay them on time. Similar to how automatic bill payment features work, Credit & Debt sends you a reminder when you need to pay. And since we know how much you can spend on your debt, you can be sure to afford what you owe. Cheers to getting out of debt faster!
Saving for the Future. Our app can alert you of any opportunities we see for you to save.
Debt consolidation
Debt consolidation is when you roll multiple debts, usually high-interest debts like credit card bills, into one single payment. With the Credit & Debt app, you can explore all the ways you can combine your multiple debts into a single, easy-to-manage loan. Our debt coaches can help you find the right approach, or you can explore the "Market Place" feature on your own to find the best solution for you. Many apps offer financial solutions like credit cards and loans, but only Credit & Debt vets our partners to ensure our members have access to the best financial solutions out there that align with their respective needs. Debt consolidation is a great option when you're juggling multiple different interest rates, payments, and due dates.
Here are some other factors to consider when looking at debt consolidation. And don't worry, our financial coaches can double check all of these for you:
For debt consolidation to be successful, you have to make sure your debt payments don't exceed 50% of your monthly gross income.
You have good credit.
Your cash flow covers your monthly payments towards your debt.
A debt simulator to help you make the right decision
Want to know what makes the Credit & Debt app even more special compared to others out there? Our debt simulator! Trust us, it's more exciting than it sounds because it can help you climb out of debt faster.
Once you've connected your financial accounts to the app, you can simply run different simulations to see when and how fast you could pay off your debt. We can guide you through steps of assessing your current situation and creating the perfect plan for debt payoff. You are able to visualize what your progress would be if you stick to the plan. And you can see how long it actually takes to pay off your debt based on that plan and any adjustments you might make. It isn't a race, but paying off your debt faster always sounds good to us.
How We Compare
See how the Credit & Debt app compares to others on the market.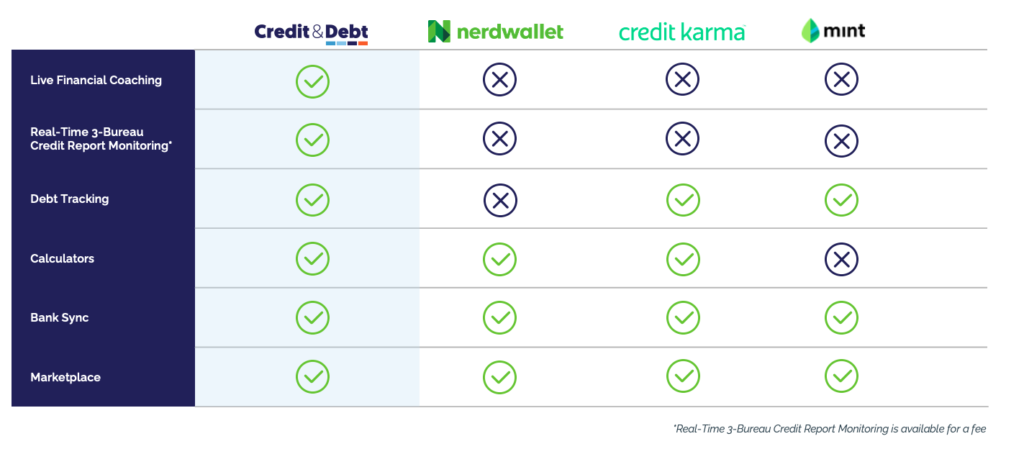 Download the Credit & Debt App
Credit & Debt app users can connect all their financial accounts directly to our tracking tools and resources. It's a great way to create a debt management plan you can actually understand and stick to. Plus, our Money Sensei™ technology uses personalized AI to help empower our members to make better money moves. We understand all your financial hurdles and stress because we're real people behind the app! And real people help, and more importantly, care.

Click here to learn more and download the Credit & Debt app.