Going on a vacation can relieve built-up mental and physical stress. You don't want to ruin that relief by creating debt stress while on your so to speak getaway. The expenses you accrue on your vacation can easily add up and leave you regretting going on vacation in the first place.
To easily avoid that, you want to prepare a budget for your vacation. To help you get started we have provided a free printable vacation budget planner to help you prepare for a debt-free vacation.
Unfortunately, while your expenses may increase, the chances are your paychecks stay the same. That said, there are ways to save a bit more by making a few, simple lifestyle changes. Join our 15-day savings challenge and rack up some extra change! The sooner you start, the more you'll save.
How to Finance a Vacation
There are many ways to "finance" your vacation; you can finance out of pocket, you can put it all on credit cards put it all on credit, or who knows, maybe your next vacation is crowdfunded! But to better predict how you want to go about financing your vacation you must first identify all of the vacation costs and how much you're willing to spend on them.
To do that, just use the free vacation budget worksheet provided to categorize all of your expenses, the expected costs, and how much you are willing to spend on each individual aspect of your vacation.
Free Printable Vacation Budget Planner
If you'd prefer to track your vacation budget progress in a spreadsheet, Credit & Debt is providing a free template you can use:
Instructions for Google Sheets – Money Saving Challenge Template
If you haven't done so already, click here to open the spreadsheet template. You'll need to make a copy of your own, so click File > Make a Copy and save it to a folder of your choice in your Google Drive: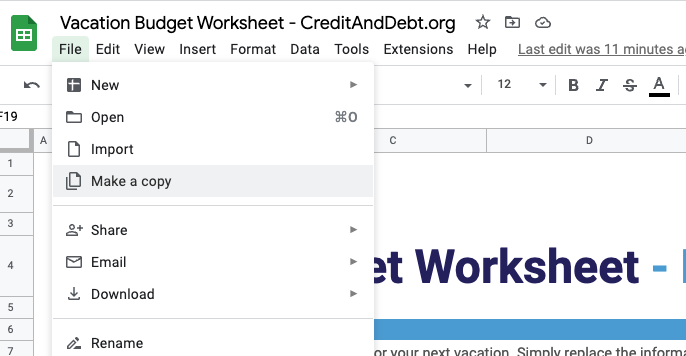 Now that you have your own copy, you can edit the template based on your vacation budget. In the 'Planned Budget' Column, you'll see our filler amounts for each category. Change these to your set budget!
After doing your research, note how much you intend to spend in the 'Quantity' and 'Unit Cost' Columns and select the appropriate 'Category'. The 'Amount', 'Budget in Detail', and 'Available / (Over)' will populate automatically.
Printable Vacation Budget Worksheet
You can print this chart to help you track your savings each week: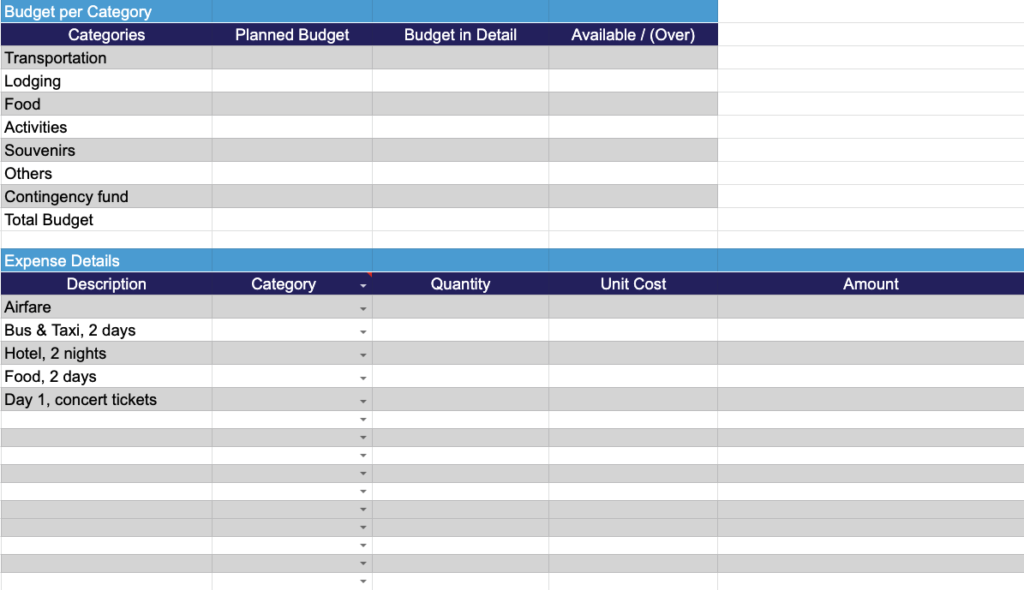 Vacation Budget Tips
Pre-plan your vacation
List out all of the things you want to do, see, eat, or experience on your vacation. Map out the step-by-step activities you plan on taking during your trip that will cost you money. The budget worksheet provided is exactly what you need to organize and summarize your travel, food, entertainment, and overnight stay expenditures.
Set your limits
When calculating how much you plan to spend on your vacation, think about more than just the total of what you'll spend on food, entertainment, travel, and overnight expenses. Calculate how much you plan on spending daily and how much you want to spend at each location during your vacation as well. Create a timeline of where your budget starts and where it ends. That way you can stay on track throughout each day and event so you won't overdraw your expenses.
Book strategically
Booking strategically for your vacation can look different depending on the type of vacation you want to take. If you're someone with a dream destination in mind then the earlier you book the better. Also, consider traveling during the off-season and book your travel fare during the week. Booking a flight on a Tuesday months in advance would give you a better chance of getting a cheaper price rather than booking a flight for the upcoming weekend.
Pack light
Save money on vacation by minimizing what you take with you. Cut costs by avoiding additional baggage fees and transportation. It'll also be a hassle to deal with storing it as well. You're leaving home, there's no need to take home with you! Pack your necessities and use your budget to buy things you may need along the way.
Pay attention to currency exchange rates
If you're traveling internationally for vacation, it may not be the best idea to rely on your credit card or avoid exchanging currencies. Exchange rates vastly differ amongst countries and prices aren't measured the same across the world. Do your research, fully understand the exchange rates, and know how the country you're traveling to utilizes currencies before you end up spending more than you can afford.
A quick and easy way to organize all of your expenses is by using Money Sensei technology. Money Sensei tech automatically organizes and categorizes your expenses for free. Sync your bank accounts with Money Sensei to get full insights on how you normally spend habits. That way you can compare and contrast your budget for your next vacation.
Vacations are supposed to relieve stress, not add to it. When looking to get the best deal on your vacation you may utilize third-party services or come across shady internet advertisements. Nonetheless, you want to protect yourself and your finances from fraud, theft, and whatever else lurks in the dark. To better prepare you in that regard, we've decided to bring in the professionals over at IdentityIQ.
Identity IQ Scammer Tips
Studies have shown around 24% of all identity theft crimes occur within the confines of a hotel and around 18% while dining out. That means over 40% of identity theft happens at two prime expenditure locations while on your vacation. To help prevent such occurrences from happening to you, here are 3 easy tips to follow.
Know common vacation scams to help avoid falling for one.
You can learn more about common vacation scams by watching the video we filmed for our channel, which is linked in the description box.
Beware of ATM Skimming devices.
Help protect your finances when you travel by being cautious of ATM skimming devices, leaving unnecessary credit cards at home, and always keeping your wallet in a secure location.
Sign up for IdentityIQ services.
BEFORE you go on your trip, protect your identity and credit so you can have peace of mind while you're away. Plus, you can monitor your credit report in an easy-to-read format.
Use IdentityIQ services to monitor and help protect your identity from scammers and thieves.
How much to budget for food on vacation
Budgeting for food on vacation can get a little tricky since there are many scenarios where you won't know the cost of your meal until your appetite dictates it. Still, you should estimate the cost of every meal, every day, at every location when on your vacation. That includes the snacks and refreshments you'll buy while traveling so consider all areas of your budget.
Settle on how much you would ideally like to spend on food on your vacation. Then, think about how much you're willing to spend if it came down to it. From there, get the general price of the diners and restaurants you just can't miss while you're in a new city, and see how much that leaves in your ideal budget. If there's not enough to be able to get by on trail mix and water in between meals, either boost your budget or cancel some reservations. If you still have comfort room in your budget for comfort food, then start planning out your in-between meals.
Vacation Meals on a Budget
To save money when you eat on vacation you're going to want to plan vacation meals on a budget. To do this, you must either cut the cost of your meals or consume meals that are low in cost.
So, don't be afraid to use coupons when you eat out on vacation. No ones going to judge you for using a coupon you found online to save some money. And if they do, who cares, you're just visiting and you'll never have to see them again! Trust me, they're just jealous of you ballin' on a budget.
IdentityIQ Security Tip: Watch out for online scams when looking for the best deal available. Scammers can be baiting you with a deal that is just too good to be true. These can be displayed to you as pop-up ads for coupons, discounts, or sale advertisements. When you use an online coupon or ad don't put in any personal information or pay to use the discount.
Bring a reusable water bottle
Cut costs more efficiently on vacation by taking your own reusable water bottle. Water is commonly free at every restaurant or diner you go to and when you're finished eating you can fill up and go! On top of not paying for a beverage for your meal, you won't have to buy a beverage in between meals as well. Saving on a water bottle or two a day can go a long way on vacation because prices aren't as cheap as they literally were yesterday.
Shelf stable snacks are really going to help you make it from meal to meal while on vacation. You'll reserve the need to compulsively buy a bag of chips before the big meal you budgeted for. Trail mix, dried fruits, and granola bars are just a few of the options to sparingly fuel your nutrients in between meals, even if you're not on vacation!
Plan for events with food
You can easily expand your vacation budget in one area by combining it with expenses from another category of your budget. When you plan your vacation itinerary around events with food, you can either budget it with your entertainment expenses, your food expenses, or both. Food at sporting events and live shows can be expensive but if you budget using multiple areas of your budget, you can potentially save overall.
It can be more difficult depending on your overnight stay arrangements while on vacation but cook where you stay. Even if you're only provided a microwave, instant ramen can be your best friend when budgeting for food on vacation. If you're staying in an Airbnb, resort, or hotel that provides a stove or oven, then make a stop at the local market and save a few dollars by cooking for yourself.
The cost of traveling on a bus plane or subway
Your travel cost when going on a vacation is typically the most expensive cost you will have to make on your trip. However, that doesn't mean it can't be your cheapest expense either. If you book and budget strategically, your travel expenses could be the driver of your budget.
Airfare
Traveling by plane on your vacation is usually the pricier way to get around. If you're going somewhere that requires air travel, then book early, book during the week, and book during the off-season. Make sure your web browser is in incognito mode! Searching in incognito mode will help you get the best price and not the most common price you've been looking into.
If you're looking to get away on a spontaneous weekend adventure, have yourself a short flight vacation. Check your local airlines for any last-minute vacant seats and spend the weekend out of state or the next town over. The most expensive part of your spontaneous vacation just got cheaper so you can make the most out of where you go. Just be sure to book with your browser in incognito!
IdentityIQ Fake Ticket Alert! #1: If you're looking to attend events on your vacation, and the tickets are sold out, or just not in your budget, you need to be careful with purchasing tickets from resellers. Scammers use fake event tickets as bait to try to trick their victims into sending them money or getting their private information. When you buy any ticket online, don't buy it from someone who contacts you first, sells it for a price that's too good to be true, or has a low follower count. It's best to check the seller's reviews and only pay using a secure method. 
Check out our entire article on ticket scams at the link in the description, and use IdentityIQ services to better protect yourself.
Bus Travel
Traveling by bus can be a great alternative to travel when going on a vacation. It can be a cheaper alternative to flying, and on top of that, you can go sightseeing from point A to point B. Vacation Tour Busses are a great way to utilize the travel aspect of your vacation budget along with the entertainment aspect as well.
If you're a family looking to go on vacation or an organization looking to get away, a cross-country road trip may sound tempting. Instead of taking part in a vacation bus tour, you could potentially save money and get more value out of your vacation if you map out your own journey and get a vacation bus rental.
Train Travel
If you're wondering "How much does it cost to travel by train?" before your next vacation, just know more times than none, it's cheaper than taking a plane. Although, in the US, some destinations by train are limited compared to ones by plane. So even if it better fits your budget to get a train ticket, you may not be able to get where you want to go.
However, if it so happens that the train tracks match your travel plans, and you have extra time, you can save money by traveling by train. Cross-country packages can also be cheap vacation alternatives that can help you start planning your next vacation based on your budget!
If you're looking to travel locally while on vacation, the subway or metro station can be cheaper alternatives to renting a car or using an Uber. Search local day fares and make it easier to predict and budget how much you will spend on local travel. Every city is different, so not every city uses the same type of public transportation system if one at all. With that being said, don't disregard rideshare services on vacation and plan to budget for a few lifts. When traveling locally on vacation, buses can be a great way to get around town as well.
IdentityIQ Security Alert! #2: If you're planning to use ride-share apps, or even if it's an afterthought for emergencies, it's important to still look out for scammers. Common rideshare scams include: The driver asks for more money for tolls or a long ride. The driver charges you for costs you don't owe, such as cleaning up messes that never occurred. Getting charged for the ride, but the driver did not show up. And if the driver requests personal information like asking to verify your ID.
Cheap places to stay overnight
Where you plan on staying overnight during your vacation isn't just the place you go to sleep but also the place that protects your stuff when you're out enjoying your vacation. If you're looking to cut costs on your day out then you shouldn't be looking for a place that does more than those two things. Although do remember, you get what you pay for. So to get the best chance at the best price for whatever hotel, motel, and Airbnb that fit your accommodations; book early!
Hotels
If you're someone who likes a luxury stay on vacation, look into luxury hotels looking to fill vacancies for the night. Although, you're going to have to wait until the very last moment to get the very best price. The best advice is to book somewhere without cancellation fees early, then cross your fingers that a luxury room is vacant when you get there.
Airbnbs
Consider whether or not you want to stay in a hotel or Airbnb when considering where you want to stay overnight on vacation. Hotels usually come with perks, amenities, and staff but Airbnbs can often be cheaper and a more private stay. If you're traveling with family or a large group on vacation, Airbnbs can provide more space and intimacy. Hotels on the other hand may force you to book additional rooms based on your party size.
Motels
There's no sense in wondering 'are motels bad' when budgeting for your next vacation. Instead, you should be wondering 'are motels cheaper than hotels?' and to answer that, typically they are! However, that doesn't mean motels are necessarily cheap. So wait, if motels are supposed to be cheaper than hotels, why are motels so expensive? The answer to that and almost everything else in this world is that's just the way the cookie crumbles. Just book as early as you can, or if you think you got what it takes, motels are known to haggle to fill a vacancy.
IdentityIQ Security Alert! #3: Choosing a hotel that benefits your budget doesn't always mean choosing the cheapest hotel. A survey done with over 1,000 hotels found that 43% of their employees admitted to stealing from residents at least once. Having your luggage stolen or any personal belongings from your hotel or motel room can lead to identity theft which can cost you more than a night's stay at a luxury hotel. Common scams include fake rental listings and fake rental websites.
Before You Go – Vacation Budget Worksheet
Don't go on your next vacation without planning out a budget first. As mentioned before, the vacation budget worksheet provided will help you prep, categorize, and summarize your expenditures for your next getaway. By using IdentityIQ services you can monitor your identity and credit report. When you sign up on Credit & Debt, you get IdentityIQ service FREE for 90 days. We made the vacation budget worksheet printable and accessible to everyone for FREE! So, there is no excuse for not saving money on your next vacation.